Products
The Jelenic Machinery Company
---
We offer thousands of products and services to answer your every tooling requirement.
Thousands of Parts and Tooling
Our Excellent Engineering and Rebuilding Services
A Fully Stocked Inventory
Collets, Cams, Chasers and blocks, Pushers, Gears, Drill Holders, Die Heads
Hundreds of products for JIT savings
And as always our promise for great Jelenic service and guaranteed results!
At Jelenic Machinery Company everything we sell is guaranteed to your satisfaction or your money back.
Give us a call soon! You will be glad you did!
---
The Jelenic Machinery Company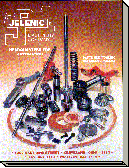 The Jelenic Machinery Company Reference Manual
Contact us today for your FREE copy!
  machinery@jelenicmachinery.com
Jelenic Machinery Company
1390 East 25th Street, Cleveland, Ohio 44114-2123
Phone: 800-523-1858 or 216-523-1858 or Fax: 216-523-1746
machinery@jelenicmachinery.com
Web Site and Content © Copyright 2012
Contact webmaster for comments or questions.